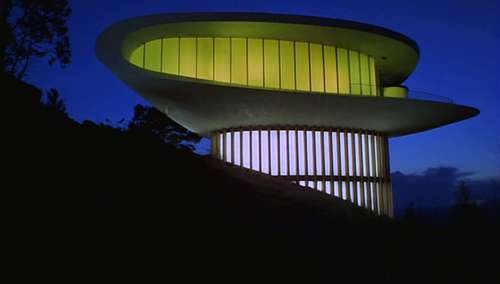 Charles Deaton's Sculptered House of Genesee
Woody Allen chose Colorado in 1973 to film his famous science-fiction comedy, Sleeper,
because of the abundance of futuristic modern architecture along the front range to
feature as backdrops in his film. Here is a rundown of locations in order of appearance
in the movie.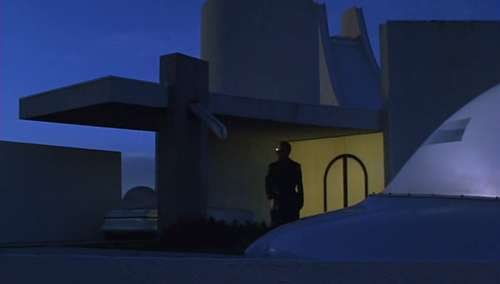 This house at the beginning of the film is actually the back of the Church of the Risen Christ, designed 1969 by James Sudler.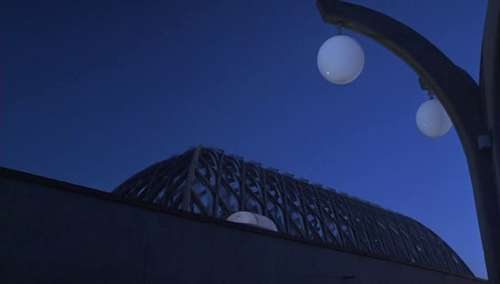 Next, this shot is the Boettcher Memorial Conservatory designed 1966 by Victor
Hornbein and Ed White, Jr. at the Denver Botanic Gardens. The movie has a little
model futuristic car riding on a track in front.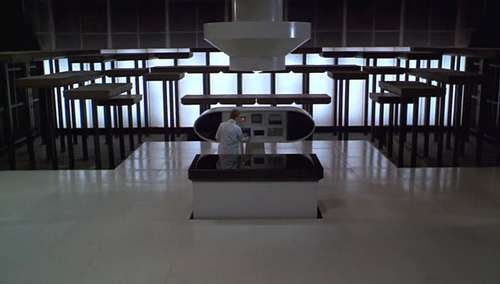 Some locations I could not identify such as this interesting interior above. I am hoping
readers can write in and enlighten us.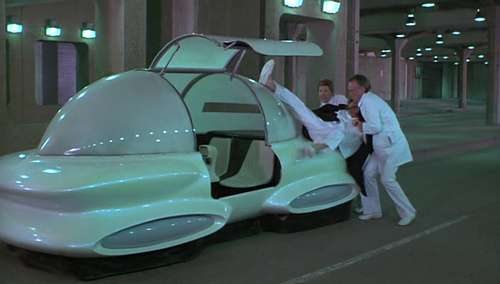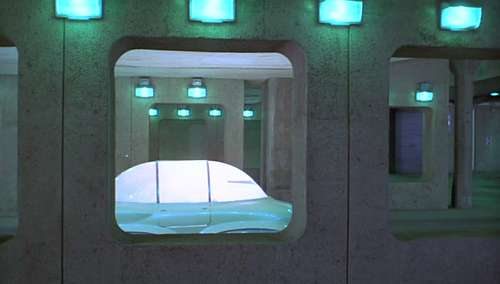 These underground parking shots are another unknown. One reader suggests these are
from Cinderella City, but I can't find shots of this to verify. Anyone?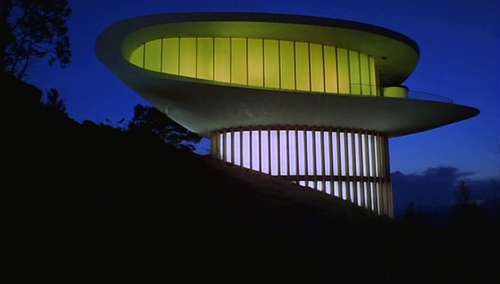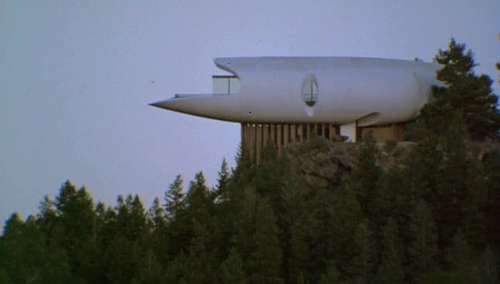 The amazing Sculptured House of Genesee, built by Charles Deaton in 1966 and not
actually lived in until John Huggins completed it after purchasing the home in 1999.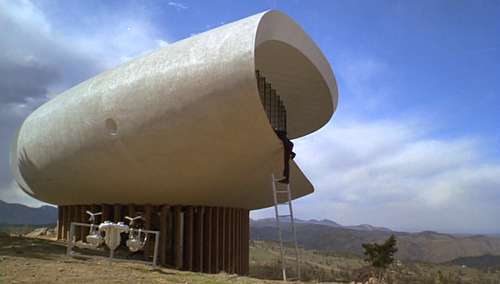 After watching the film, it is clear that the circular elevator is not used as the famous,
ahem, Orgasmatron in the film as rumored, it is really just a cheap small prop.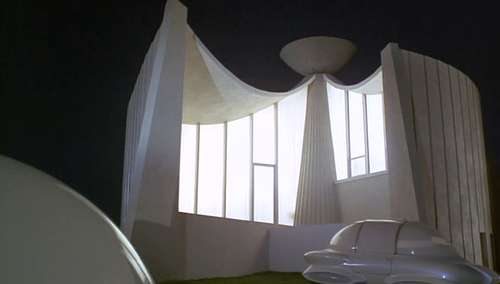 This odd, yet beautiful building is the Varner House, designed 1969 by James Ream.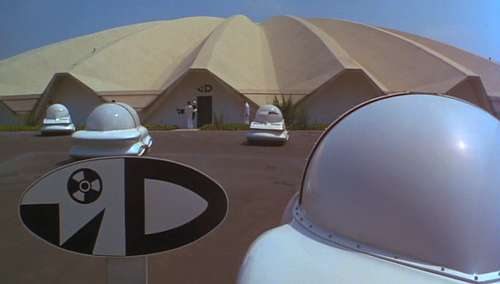 Another interesting concrete shell structure, I am hoping someone can write in and tell
me where it is.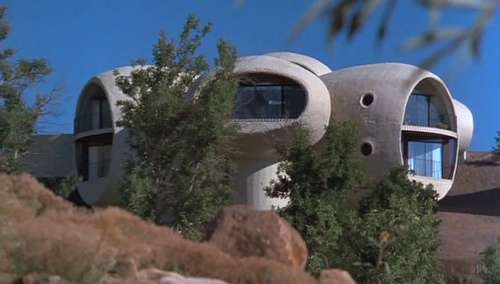 Next we are off to Boulder to see Charles Haertling's impressive Brenton House,
a 1969 design that resembles barnacles or possibly mushrooms.
More shot's of Deaton's Sculptured House. Charles Deaton also designed this similar
bank on South Broadway.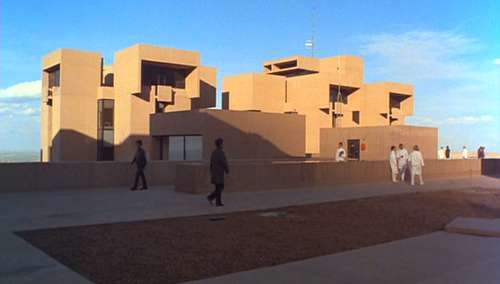 No visit to Boulder is complete without a visit to the I. M. Pei masterpiece, the National
Center for Atmospheric Research, N.C.A.R. (more shots of this coming up)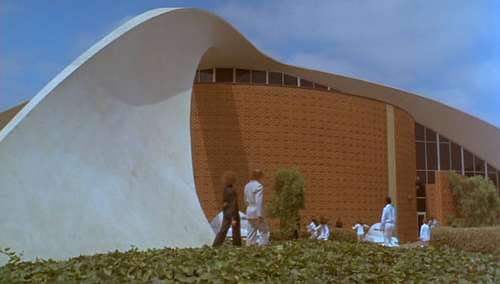 Of the locations in the film that I could not identify, this is the one I would really like to
track down. Anyone? I am guessing it is a church. Note: Reader Eric identified this as
Culver City High School in California. It is still there!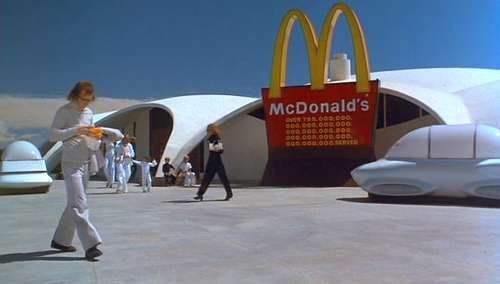 This is the Mile Hi Church in Lakewood with a McDonalds sign over the eye. It is now
accompanied by two other larger structures, the newest one is an enormous concrete shell.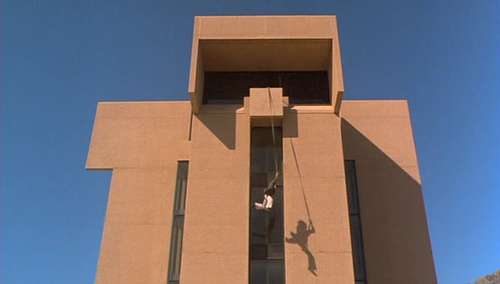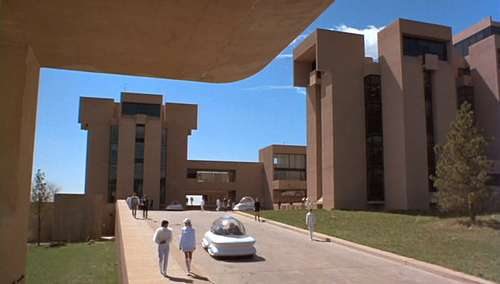 N.C.A.R. in Boulder, one of the most beautifully sited structures ever. Of all the I. M. Pei
projects in Colorado, this is the one that has remained the most-intact. Planning started
in 1961, the building was completed in 1967.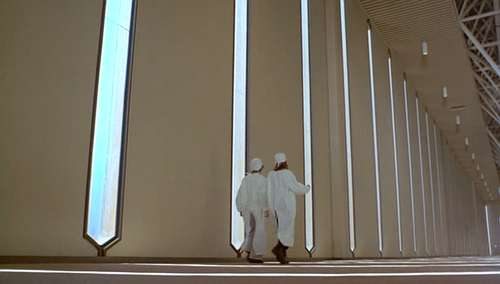 And, finally, the late, great Currigan Exhibition Hall, designed by Jim Ream in 1969
for William Muchow Associates. It was built with the world's largest use of the space
frame. It was torn down in 2002 to make room for the expansion of the Denver
Convention Center.
(Brutalist structures are the most under-appreciated, most misunderstood and most
endangered modern architecture.)
---
Scott Murdock June 24th, 2011 at 8:17 pm
Very cool! I've never seen the movie, but maybe I should.
Mary-Frances Main June 25th, 2011 at 1:10 pm
LOVE this post – had no idea all of these cool buildings were around Denver. I remember the movie, and now even recognize the scenes, but had no idea this was all there! Thanks!
paul schutt June 27th, 2011 at 2:33 pm
Tom, I think the parking garage is Cinderella city- check out those lost mall blog sites.
Eric July 2nd, 2011 at 6:44 am
The one that looks like a church is Culver City High School…
Check Google Maps – 4401 Elenda St., Culver City, CA
Marion Antonellis July 7th, 2011 at 11:13 am
Tom, that building that looks like a church looks like a building on south Broadway in Englewood, I think . . .do you know that building?
C.F. "Gus" Gustafson November 12th, 2011 at 1:28 am
The locations in photos 5 and 6 are the underground parking at Currigan Hall.
Jim Macklin November 16th, 2011 at 8:26 am
Thanks Gus!
What do you think?
Leave us your thoughts at the bottom of this page!
Find B-Movie and cult film actress profiles and photos at CultSirens.com!
Some cool sci-fi movie websites:
Welcome to Recall – Total Recall Office Movie Website
Average rating:
5 reviews
May 17, 2020
Domesticon?
Great information here. I did some of my own research, and from what I've found the Domesticon building may very well be Culver City High School, only the opposite side of the building. It looks like it from the photos I've seen. The main difference only seems to be that over the years, they've added some brickface in some sections.
Oct 11, 2017
Unidentified building
In answer to the question, "Another interesting concrete shell structure, I am hoping someone can write in and tell me where it is," it was a building (don't remember its function) that was near 1st and Havana in Aurora. Was torn down a few years ago.
Aug 15, 2017
Fantastic article, we have seen almost all of these locations now in Colorado! Did anyone ever figure out what/where the Domesticon building is (the 'interesting concrete shell structure' below the Varner House photo)? I have looked off and on but never figured that one out .. I'd love to go see that someday for completionist's sake!
Apr 8, 2017
I live a hundred yards from the Brenton home. I worked at NCAR for seven years and the period it was built. I was a friend and neighbor of Charles Deaton. I photographed and worked with Bill Muchow and Jim Ream on the Currigan Exhibition Hall. And on and on and on.



I have been so lucky in this life. Everything but the orgasmatron. Happy to talk with anyone about my adventures - Haghia Sophia to Chartres.



I have greatly enjoyed your review - tho' it reminded me of my anguish at the Currigan being torn down and Boulder's reluctance to re-assemble it where today we have nothing but miserable developer's boxes.



Thanks for the memories!