Armet & Davis were the most well known of the Los Angeles-area architects of Googie-style coffee shops.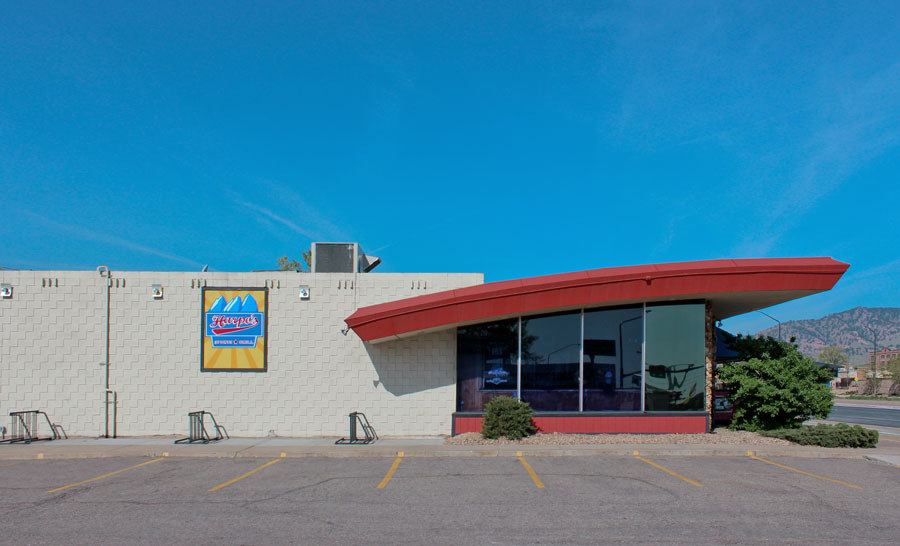 They also contributed to the Front Range landscape with their many White Spot designs, and even designed buildings for Azar's Big Boy, like this Boulder location depicted above.
The Big Boy restaurant chain subfranchised under different names around the country. While most famous for their California brand Bob's Big Boy, in Colorado (and Indiana) they were known as Azar's.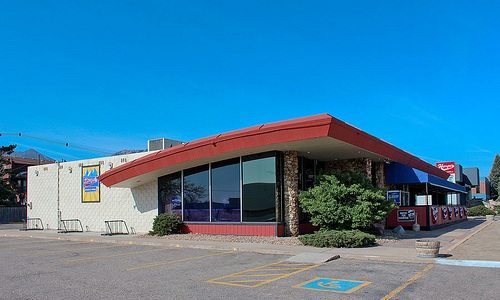 The Boulder structure may be the only surviving Armet & Davis Big Boy in the state. Armet & Davis probably designed these buildings for Azar's around the early-1960s. If you know of another surviving Big Boy building in Colorado, or recall any of the former locations, please leave a comment, I would love to hear from you. (I have only tracked down a couple of former locations, such as the current Vitamin Cottage on West Colfax.)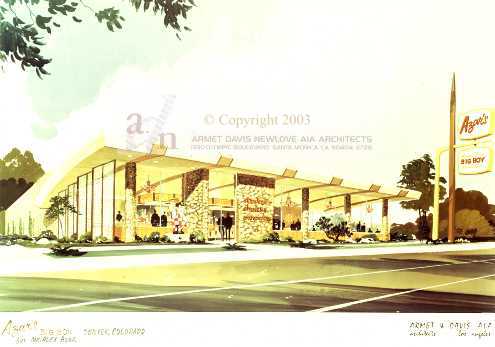 (Original Armet & Davis drawing for Denver Azar's borrowed from http://www.googieart.com.)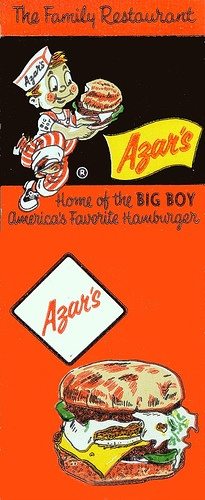 (Matchbook borrowed from http://www.flickr.com/photos/interestingideas/)
---
Brian Martinez April 11th, 2012 at 1:18 pm
Man this takes me back. I used to eat at Big Boy all of the time as a kid, and I could swear there used to be one on South Sheridan, perhaps where Rosemary Cafe is now. But I could be mistaken (the building, for one, doesn't look like an Armet & Davis design).
Jill April 11th, 2012 at 5:03 pm
There was a Big Boy at 12th or 13th & Lincoln, I believe.
Jim Macklin April 11th, 2012 at 7:03 pm
I have heard that Rosemary's Cafe was once a Big Boy. Yes, the design is quite different than this building. I also found that 13th & Broadway Big Boy on the DPL photo site.
Anonymous April 11th, 2012 at 8:53 pm
Fascinating. I did not know that the Big Boy brand was anything other than Bob's.
Paul Schutt April 13th, 2012 at 2:23 pm
Rosemarys was a big boy. It looks like there was an addition put on the north side of the building at one point.
daniel April 15th, 2012 at 11:04 am
We used to eat at Big Boy's after church on Sunday's… in Anderson, IN. There were at least two in town, but I think they were both "Bob's." I'll try to snap a few pics next time I'm home.
Jim Macklin April 15th, 2012 at 12:09 pm
Hey Dan, I didn't think anyone on this Denver-based site would care for me to be more specific, but Azar's was in *North* Indiana.
Calvin Natty Light June 14th, 2012 at 4:01 pm
Legend has it that some Boulder High students stole the Big Boty statue in the 70s and that it still rests in storage somewhere in Boulder County.
Jim Macklin June 15th, 2012 at 9:02 pm
There is a Big Boy on top of a pizza place on E. Colfax.
T L June 26th, 2012 at 12:12 am
There was an Azar's Big Boy on E arapahoe rd and S. Quebec st. It has been at least 5 restaurants since!
Wolf September 28th, 2012 at 2:22 pm
My mother use to work at Azar's Big Boy as a manager back in the 70s on Broadway and Lehow, just south of Belleview, across the street of, at the time, Burt Chevrolet. In fact I still have the tie clip and charm necklace that was given to me 35 years ago. I sure had a lot of fun in that old restaurant.
Matthew Ondish October 4th, 2012 at 6:00 pm
The Great Scotts Eatery at Highway 36 and Pecos was an Azar's. I used to eat there when I was a kid.
vansmak August 4th, 2013 at 4:07 pm
There was Azars Big Boy where Rosemary cafe is now on S Sheridan
Perkins remodled the building after the Big Boy closed
vansmak August 4th, 2013 at 4:13 pm
I remember the breakfast buffet after long nights of partying in highschool open til 2 am
Mark Gelhaar September 28th, 2013 at 4:40 am
Big Boy restaurants was great all over the US in the 50's 60's and 70's. the 80's saw them phasing out. The new Big Boys are now in CA,Michigan, Mo and coming soon near you! The great foods, service, and modern family atmosphere still exists! All over our nation you were always "Home" at the Home of the Big Boy ! Bob's, Kip's, Vip's, Elby's, Azar's, Top's, Marc's, JB's, TJ's, Frisch's, etc. I know I was there!!! Mark G. Kip's of Okla. Inc.
Ron Newton December 4th, 2013 at 2:28 pm
The New York Deli News on Hampton was the big one I remember complete with huge Big Boy out front. Original building with waiting room in front still intack.
Mark Williams January 31st, 2014 at 3:29 pm
There was a Big Boy Restaurant in the 4100 block of E. Colfax on the north side of the street. My brother, myself and my Grandparents used to go there whenever they took use out to eat. It later became a Perkins and has now been replaced by a bank.
What do you think?
Leave us your thoughts at the bottom of this page!
We loved Bob's Big Boy back in the day. If you like old beer nostalgia and collectibles, check out http://www.oldbeerstuff.com!
Find out where to bet on our beloved Denver Broncos with the US casino site reviews at casinositesusa.com.
theDenverEye
Average rating:
5 reviews
Jul 18, 2020
Azars
I was asst mgr in 1962 of the big boy across from Northgate on hwy 30-33. Danny Poore was the head manager.
Jul 7, 2020
Lolita
When I worked at the state capitol annex I went to the Broadway Azars nearly every work night in the 80's and had a fish sandwich and Lolita usually waited on me. She was great She was so polite and congenial my parents liked to go there because of her. Hated to see it go.
Jan 13, 2020
Old Waitress
I worked at Azar's at 13th and Broadway in the mid 70's as a waitress, and I remember the place very fondly. I made great friends there and truly hate to see it has been torn down. Hi Melodee!
Aug 3, 2018
costum
Back in 1985 I was a dishwasher at Azars in Boulder. One weekend the restaurant had the big boy costume and I was the lucky dishwasher to wear that stinky costume for two days waving to cars. The head on that costume was so huge I felt like a giant human bobble head, it was awesome.
Oct 9, 2017
Azars big boy ,CA... on La Cienega and Venice
I used to eat here....in the eighties