The Federal Theater at Federal & 38th stopped showing films in the 1970s. Built in 1923, the building had an Art Deco makeover in 1948 by architect Charles Strong, who also designed the Art Deco apartments of Poet's Row on Capitol Hill around the same time period.
You can that the original 1920s theater is recessed behind the update. Not only was the
marquee added, but the storefronts were extended out.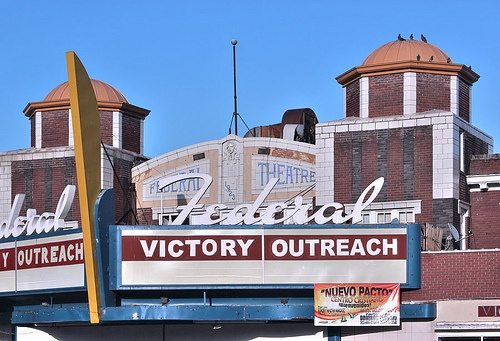 You can see the original terra cotta theater name and year behind the Art Deco marquee.
---
Ken September 27th, 2011 at 10:18 am
I remember seeing movies at the Federal when I was a kid: "A Boy 10 Feet Tall," "The Incredible Mr. Limpet," Elvis in "Harem Scarum" ….
theDenverEye
Average rating:
1 reviews
Jan 21, 2019
Totally Incorrect Info
You state that the Federal Theatre stopped showing films in the 1970's. To be clear, the theatre was operated along with the Oriental theatre as a $1.00 theatre up until the late 1980's. The Federal ran an A and B feature each week as well as occasional music and contests for the neighborhood. Please make this correction to your website.



Thanks,



Pat