I took advantage of last week's Doors Open Denver 2012 event to show my daughter the beautiful Oxford Hotel.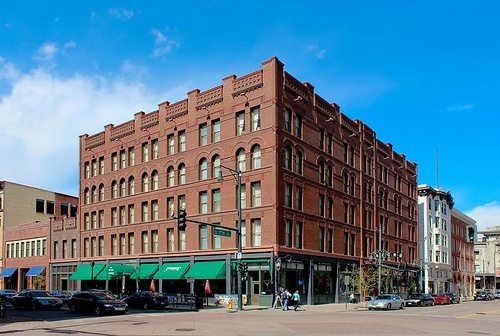 This 400 hundred+ room hotel was designed in 1891 by Frank Edbrooke, the Denver architect
who designed much of downtown, including The Brown Palace (which The Oxford predates).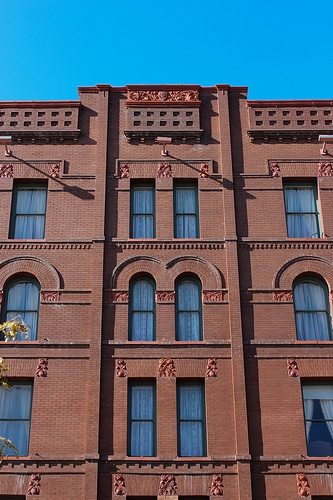 The hotel is designed in the Richardsonian Romanesque style,
named after master architect Henry Hobson Richardson.
In the days before modern steel construction, cast iron columns enabled architects
to build taller buildings without the thick walls required to support the weight.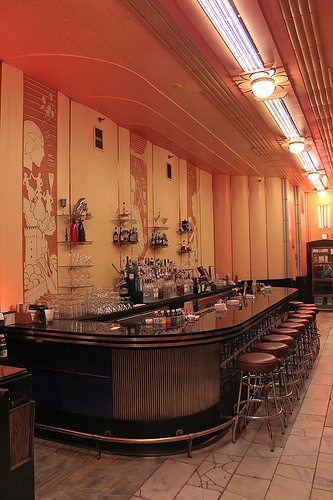 After prohibition ended in 1933, the hotel employed Charles Jaka to design the
award-winning Art Deco Cruise Room bar, inspired by the lounge on the Queen Mary.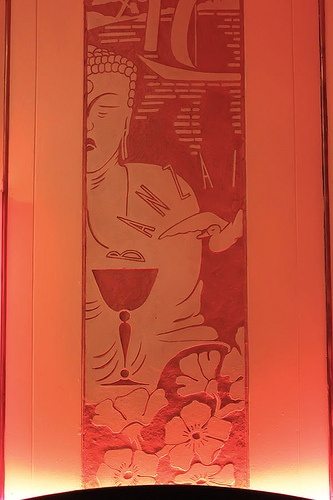 It is decorated with reliefs showing drinking toasts from countries around the world,
often with themes that are considered slightly politically-incorrect today.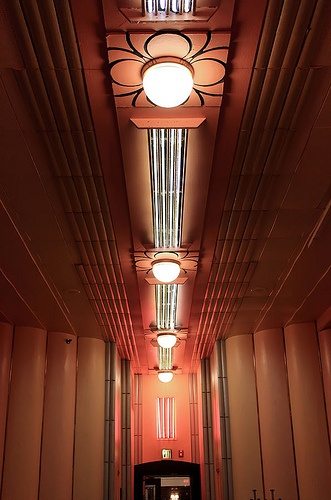 Here is a photo of an Art Deco house designed by Charles Jaka
a few years before the Cruise Room.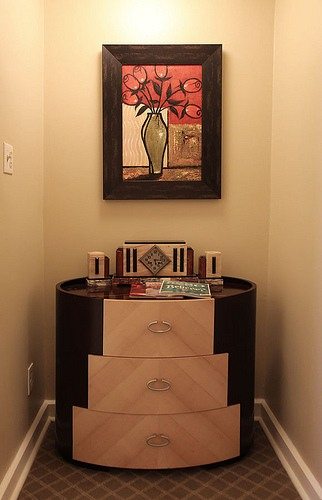 Because of Doors Open Denver, the hotel was kind enough to open up
some of their rooms, especially this one which continues the Art Deco theme.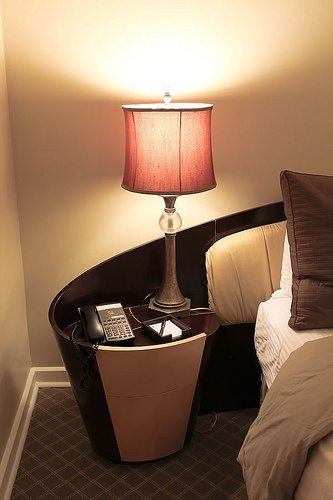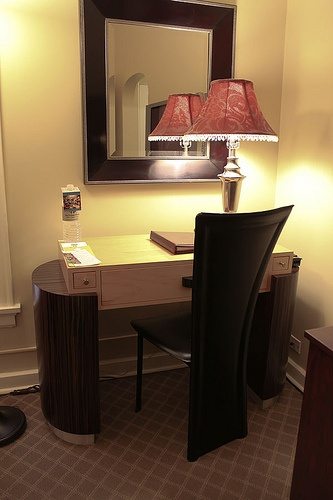 And finally, I know that this isn't in the best taste, but I always like to visit the
bathroom in the basement of the Oxford to marvel at these enormous urinals.
---
Brian Martinez April 19th, 2012 at 5:15 pm
Nice photos! The Oxford has always been overshadowed by The Brown Palace, it seems, maybe because of its location. Thanks for sharing. (My oldest girl is named Alexandra too!)
Jim Macklin April 19th, 2012 at 7:18 pm
Thanks Brian!
Jill April 20th, 2012 at 7:20 am
Gorgeous. Thanks, Tom. I adore the Oxford but had never seen a guest room. The furniture is perfect!
Jim Macklin April 20th, 2012 at 8:41 am
Thanks Jill!! I always appreciate these comments!!
Anonymous April 20th, 2012 at 10:35 am
Very cool Tom. That wraparound headboard is amazing.
Also cool that you took your daughter on this adventure.
Is it just the angle of the lighting in the second photo–the windows on the right side of the building look tipped slightly to the right (to my eyes anyway).


Related Posts from theDenverEye!

theDenverEye
Average rating:
0 reviews